Four New Local Authorities Join 50 Things To Do Before You're Five!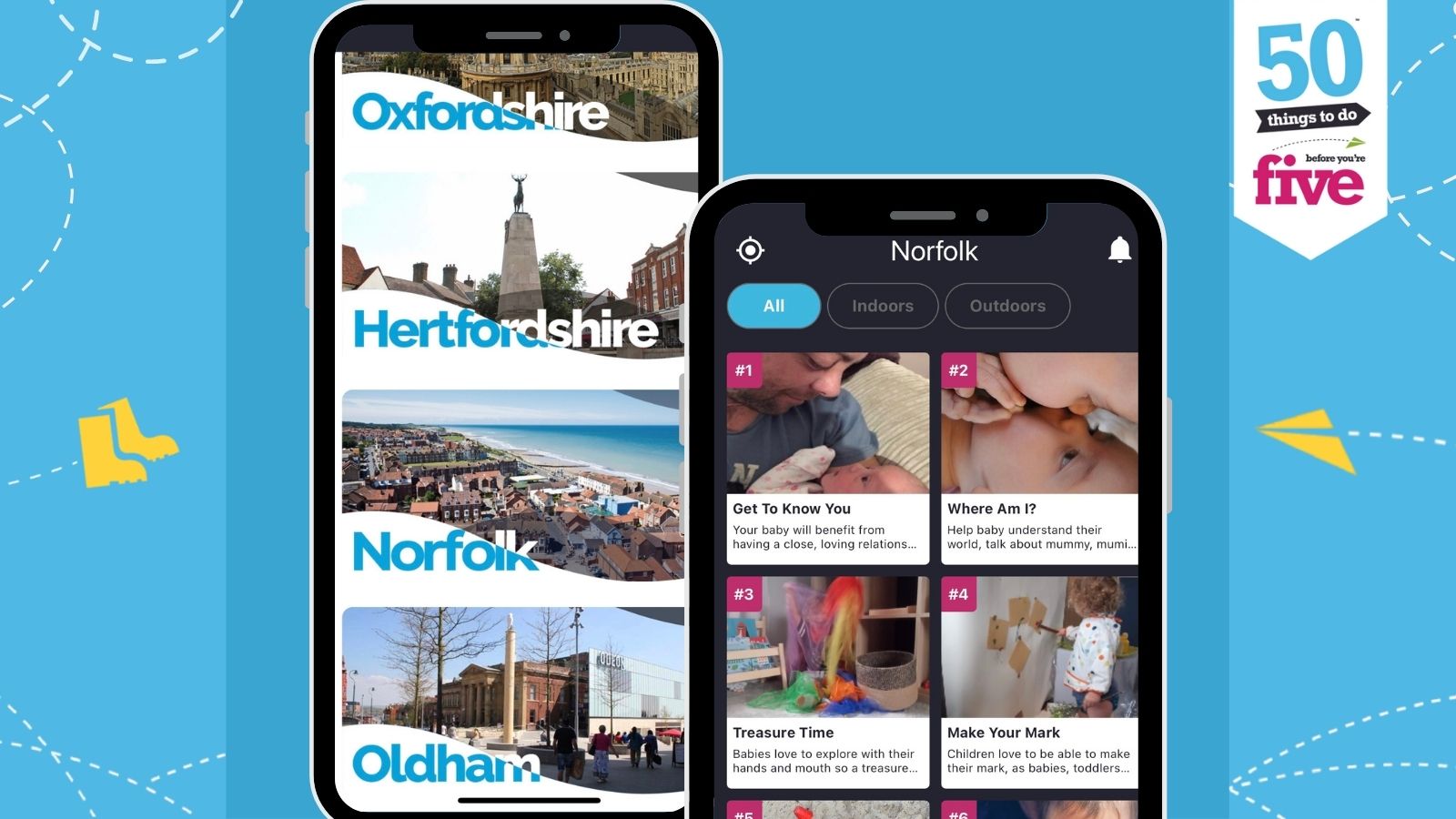 July has been a busy month for 50 Things To Do Before You're Five as four new Local Authorities joined us!
Summer this year will be a bit different with many families expecting to have a 'staycation' in the country. Norfolk, Oxfordshire, Hertfordshire and Oldham launched their 50 Things App just in time for families to have 50 fun and low-cost ideas to get stuck into this summer! We are so excited to see what our new partners have to offer to their families!
Oxfordshire launched in the beginning of July with the goals to improve early language and a focus on parent-child interaction.
"This exciting initiative is part of the county council's school readiness work, supporting families and nurseries to enable children to have all the ingredients they need from birth to develop their early language skills" (Councillor Liz Brighouse, Oxfordshire County Council's Cabinet Member for Children, Education and Youth Services).
The council estimates that there are approximately 42,000 children under the age of five living in Oxfordshire and their team has been working hard to promote the initiative to as many people as possible.
Click here to read Oxfordshire Council's full press release and to find out more about what parents think about the app.
Norfolk also launched their app in July with a focus on supporting children's learning and development. The council has now started to promote the initiative by working with their various partners in the county and having online sessions to help parents and carers discover how they can use 50 Things activities to support their children. Parents and carers will have the opportunity to receive advice from a tutor during these sessions and also meet each other.
"Norfolk County Council are very pleased to have launched 50 Things To Do Before You're Five for families in Norfolk.
We are focused on improving outcomes for children in Norfolk by supporting children to reach their learning and development milestones, reducing emotional harm and neglect and improving social mobility.
50 Things will provide families with ideas and information which will support their children's learning and development and provide opportunities for families to explore their local communities.
We aim to work with our Early Childhood system partners to embed 50 Things across Norfolk, promoting engagement from all services who work with children aged 0-5years. Through system wide promotion families will be encouraged to engage in the activities and partners will be able to use the resources as part of their own service delivery." (Carla Nichols, Commissioning and Service Development Manager, Early Childhood System)

Over the next few months, we can expect Hertfordshire and Oldham to be actively promoting their launches and plans for 50 Things and what reach out will look like in their area.
"We're thrilled to welcome four new partners to the 50 Things family in time for the summer. We're now partnering with 15 local authorities to offer 50 Things as a localised resource to the families of approximately 500,000 children aged under five, plus the opportunity to look up events, parks, museums and waterways as these families travel the country over the summer, and beyond" (Andrea Layzell, 50 Things National Project Lead).
To find out more about our Local Authority partners and what's going on in their area download the app by clicking the buttons below!
We are so excited to see what our new partners have to offer to their families! If you would like to find out more about what 50 Things might look like in your Local Authority, please get in touch by emailing info@50thingstodo.org