Why 50 Things is Needed Now More Than Ever
As we celebrate our 5th Birthday, the 50 Things to Do team have been reflecting on our journey so far, the impact we have had already and how, maybe, 50 Things to Do is needed now more than it was at conception, due to the continuing impact of the COVID-19 pandemic.
The Impact of COVID pandemic
It is recognised that the pandemic has had a significant effect on the lives of every child in the United Kingdom. It is widely considered that Covid negatively impacted on both their wellbeing and their development, particularly those from more disadvantaged families living in overcrowded accommodation, without garden access nor the material or digital resources to facilitate play and learning at home. There is equally strong consensus across the board, including those working in health, children's rights and education, that as a result of the pandemic inequality gaps are widening.
The British Medical Journal reported in their article Priorities for the child public health response to the COVID-19 pandemic "Of greatest concern for children is the 'collateral damage' caused by the unintended consequences of COVID-19 restrictions, first introduced on 23 March 2020. Many are concerned that these indirect effects will disproportionately and dramatically affect disadvantaged children"
One of the key messages in The DfE's Early Years Education Recovery Programme is that "The Covid- 19 pandemic has exacerbated the outcomes gap, and set back children's learning and development - particularly in language and maths - and hit those from disadvantaged backgrounds hardest"
We know that many young children did not have their usual access to playgrounds, outdoor space, and access to facilities and groups to socialise, the following statement (June 2022) from Play England captures the result of this when they reported that "The impact of staying at home has had a severe effect on the physical and mental health and wellbeing of children, young people and people of all ages. Lack of play is linked to mental health problems too, with isolation increasing depression for some children. "
How 50 Things supports Covid Recovery agendas
Built on best-practice and extensive research, 50 Things to Do develops the building blocks for long term outcomes. Our focus is on supporting families to make sustained positive changes to improve the home learning environment and create lasting positive outcomes for their children. 50 Things to Do achieves this through:
• Establishing healthy habits that can last a lifetime, including active lifestyles, exploring the local area, and doing activities together as a family.
• Increasing parental knowledge of the activities they can do and how and why they support their child's development so that they can adapt activities and continue to support their child's development beyond the activities in the app.
• Building cultural capital, helping them to develop the knowledge, experiences, and communication skills that will prepare them for their future success.
When 50 Things to Do is commissioned in Local Authority areas, we have seen that it encourages cross-agency working, bringing teams together to work towards shared local and national goals. For example, rather than health visitors, Early Years educators, health improvement teams (the list can go on!) across a Local Authority area, working in isolation to meet individual targets, 50 Things to Do provides the opportunity for collaboration, that helps individual agencies to achieve their own targets within the bigger picture. Moreover, it enables parents to get to recognise that services are not isolated.
We believe one of the unique elements of 50 Things to Do is that our focus is on parents engaging in fun stuff" with their children. This deliberate approach is to ensure our offer is an inclusive, non- judgemental way to engage parents in their child's development. The report published in 2020 by The Royal Foundation "State of the Nation: Understanding Public Attitudes to the Early Years" highlighted, as one of its key insights, that 7 out of every 10 parents feel judged by others. Among these parents, almost half felt this negatively impacts their mental health. Even just a few minutes a day of playing together strengthens relationships. Furthermore, playfulness is often associated with being happy, imaginative, light-hearted and free (there is a consensus among childhood experts that playfulness is a positive trait that leads to a sense of happiness and joy) In a context where, even before the Covid19 pandemic, the media was reporting that children and parents were more stressed today than they have ever been, we really see that our approach can positively impact on the whole family's wellbeing.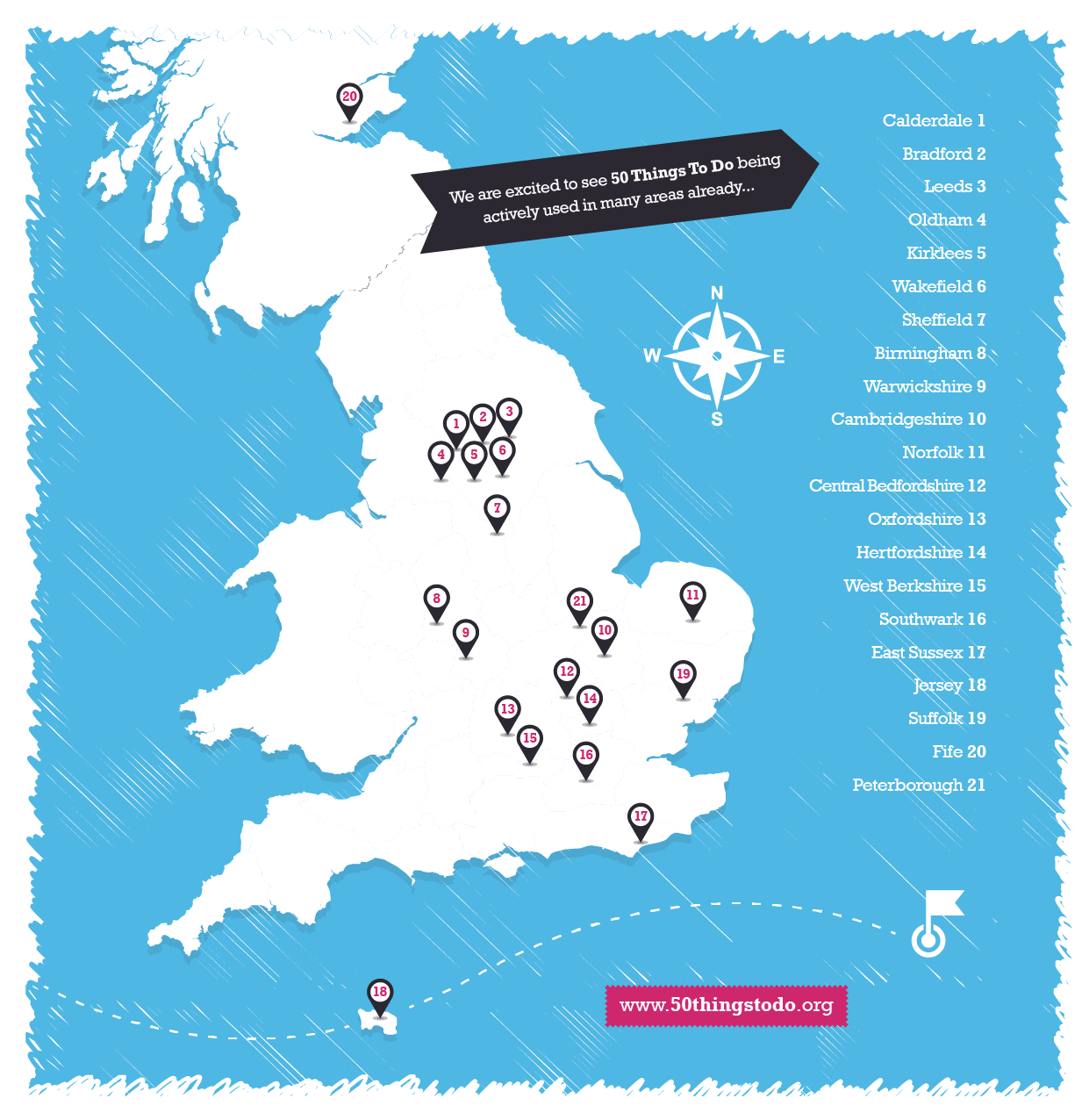 The Next Five Years (and beyond!)
We have an ambitious plan to embed 50 Things to Do into many more Local Authority Areas – we are currently in 20, with three more going live very soon. "Any recovery planning that takes place must encourage integrated, local approaches, working across early years settings, schools, NHS Children and Young People's Mental Health Services (CYPMHS) and the voluntary and community sector. At the centre of this response should be the experiences and voices of children, young people and their families." Delivering a Coronavirus recovery that works for children – summary and recommendations, Published by the NCB in partnership with 16 other of children and young people's organisations.
Written by Rebecca Oberg
Head of Partnerships, 50 Things To Do