Communicating Through Play with 50 Things To Do Before You're Five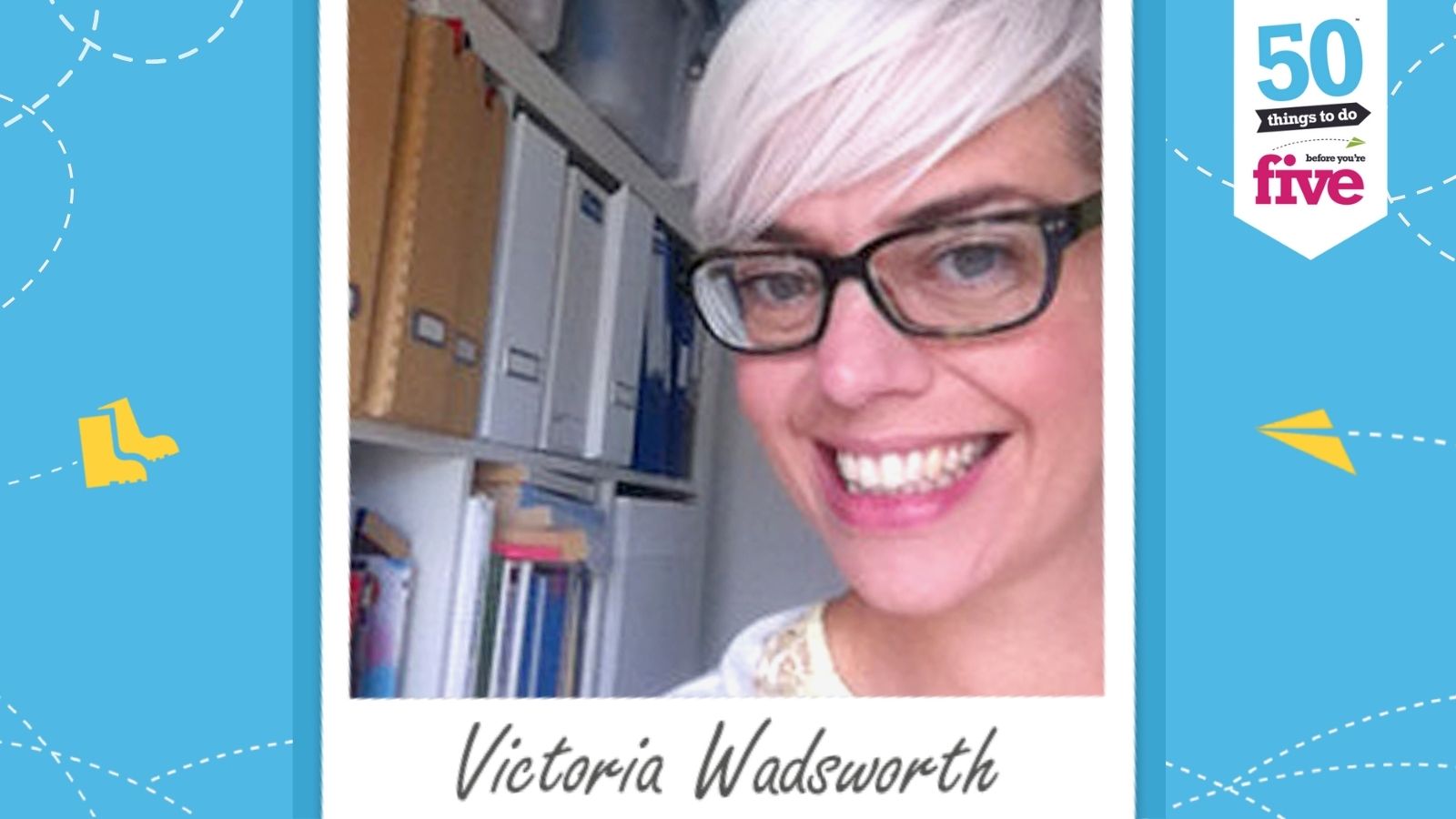 Victoria Wadsworth, Speech and Language Therapist and mum of two, talks about using 50 Things at home to build communication and early life experience.

Hi, I'm Victoria. I'm a Bradford parent of two girls, who are now aged 4 and 7 years.
Like all parents, I want my children to do well.
I want them to be happy; I want them to have friends; I want them to play games; I want them to have fun; I want them to be able to read and write; I want them to have adventures and tell me about them; I want them to say when they are upset and tell me why; I want them to behave at school; I want them to be able to express their ideas; I want them to be able to manage conflict; I want them to have a good job; I want them to achieve; I want them to grow in to strong, happy, healthy, confident, competent, caring adults…and much, much, more…..!
Although long, this list is not exhaustive, I want many more things for them. I know that lots of the things that I want are out of my control. But I also know that in order for my children to have a chance to do well, they need to have a really solid beginning. A start in life where they can learn, develop and build the skills they need to equip them for the future.
As well as being a parent, I'm also a Speech and Language Therapist.
I know that an important skill (arguably the most important!) I can begin to support developing is language. If you think about it, all of the things I want my children to achieve are dependent on them having competent language skills. From being able to ask a friend to play, to understanding the rules of a game, to expressing an opinion, to being able to read and write (if you can't say a sentence. you're going to find it difficult to write one). These activities are all dependent on successful acquisition of language skills and being able to competently communicate.
From birth up until age 5, language is developed at a rapid pace, more so than any other time in life. The early years are an important time for language and communication development.
I want to dispel a myth about typical speech and language development; you don't need to be an expert to do it well. But also, as a parent, you are 'the expert' of and to your own child. The other thing about language is, it's all around us, every day, in everything we do. So, you don't need special equipment to be able to do it well either.
This is why I think that 50 things before you're five is so brilliant! The beauty of this initiative is that all of the ideas and activities are perfect for developing speech, language and communication skills, and I can't emphasise PERFECT enough!
Here are just a few of our 50 things family favourites. I've included some top speech and language and communication tips to go alongside them.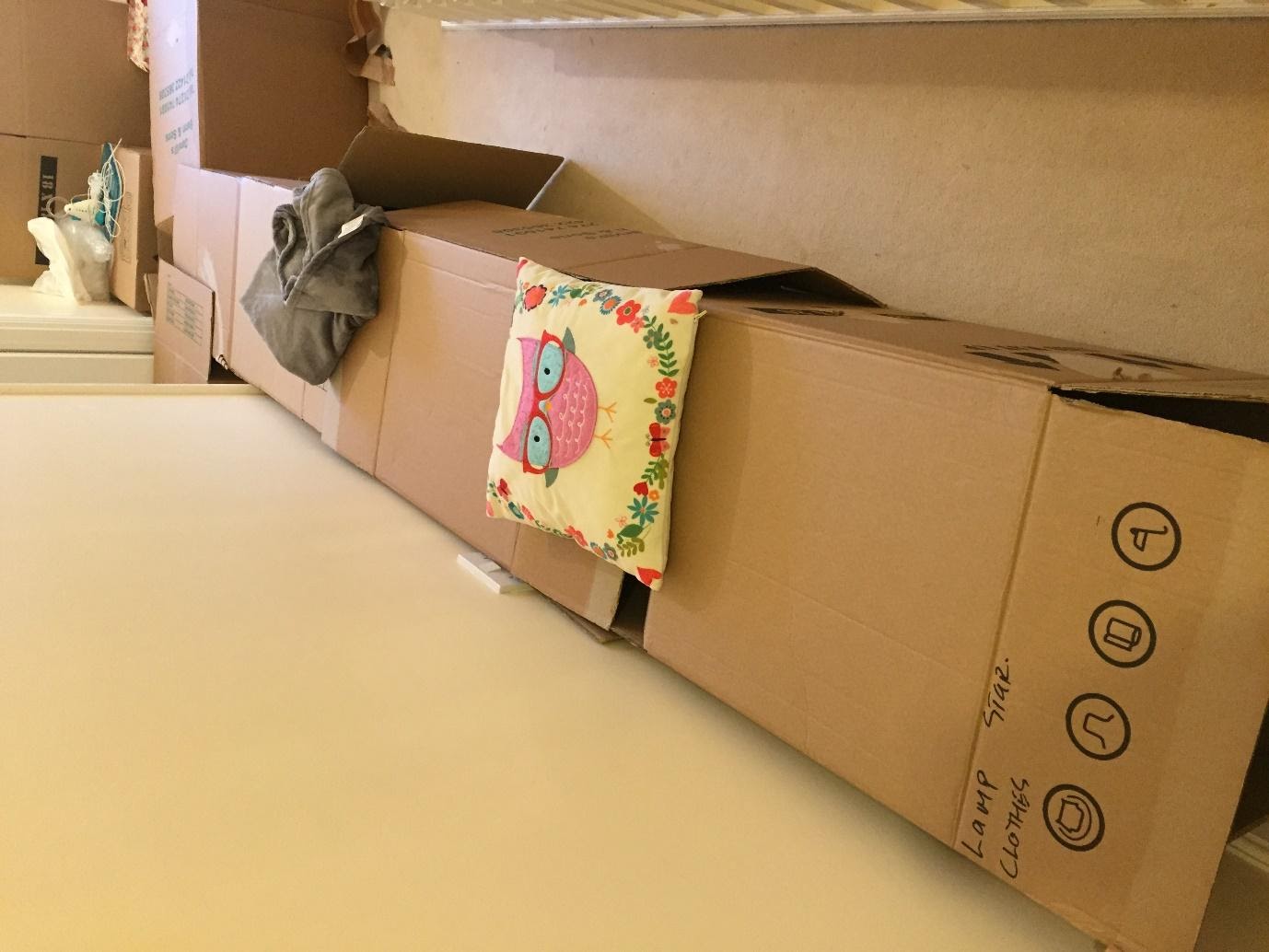 Creative Junk #25
We have recently moved house and so we have had plenty of surplus empty boxes lying around. I was really impressed when my two girls recently built their own tunnel out of the boxes, complete with lift flaps and a T-junction! They came up with this idea entirely by themselves and this just emphasised to me how creative and imaginative children can be. Play is such an important skill in the development of language. It allows children to talk about their ideas and verbalise their thoughts. To complete construction tasks like this during play, a wide range of language skills are required, including using language to negotiate, problem solve, command, question, give instructions, listen, work cooperatively and many more!
Top tip: My top tip for this would be to leave children to it. Resist the temptation to interfere in play and instead take a step back to just observe, listen and learn how mind-blowingly creative children can be.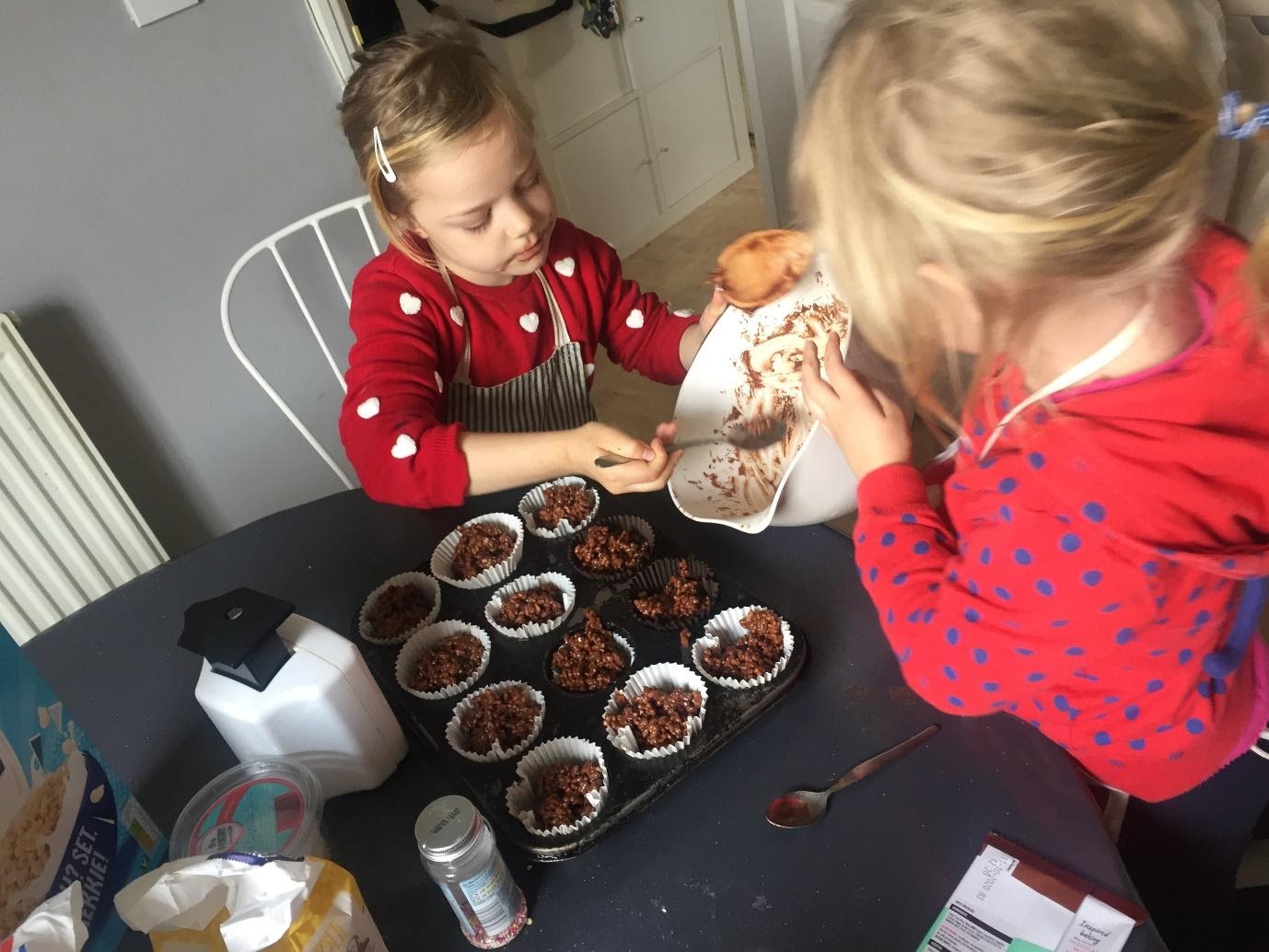 Great Bradford Baking #47
We love to bake in our house. Or rather we REALLY love to eat the baking. In my experience, as soon as children are able to walk around confidently, they are big enough and ready to get involved. We have firm baking favourites in our house that are easy to make and always turn out well, which is always good when you are starting out baking with children. As a result of baking, now my children also want to get involved with other types of cooking too e.g. cutting vegetables for the Sunday tea. My eldest daughter had made the Yorkshire Pudding recipe so much by the time she was 5 years old, that she knew how to make them herself – a great life skill too.
Top tip: There are lots of fantastic verb words that you can use when you are baking and cooking. This is great for children to hear as you talk through what you are doing e.g. cut, mix, stir, weigh, sieve, melt, blend, whisk, beat, grease, dice, bake, tip, pour e.t.c.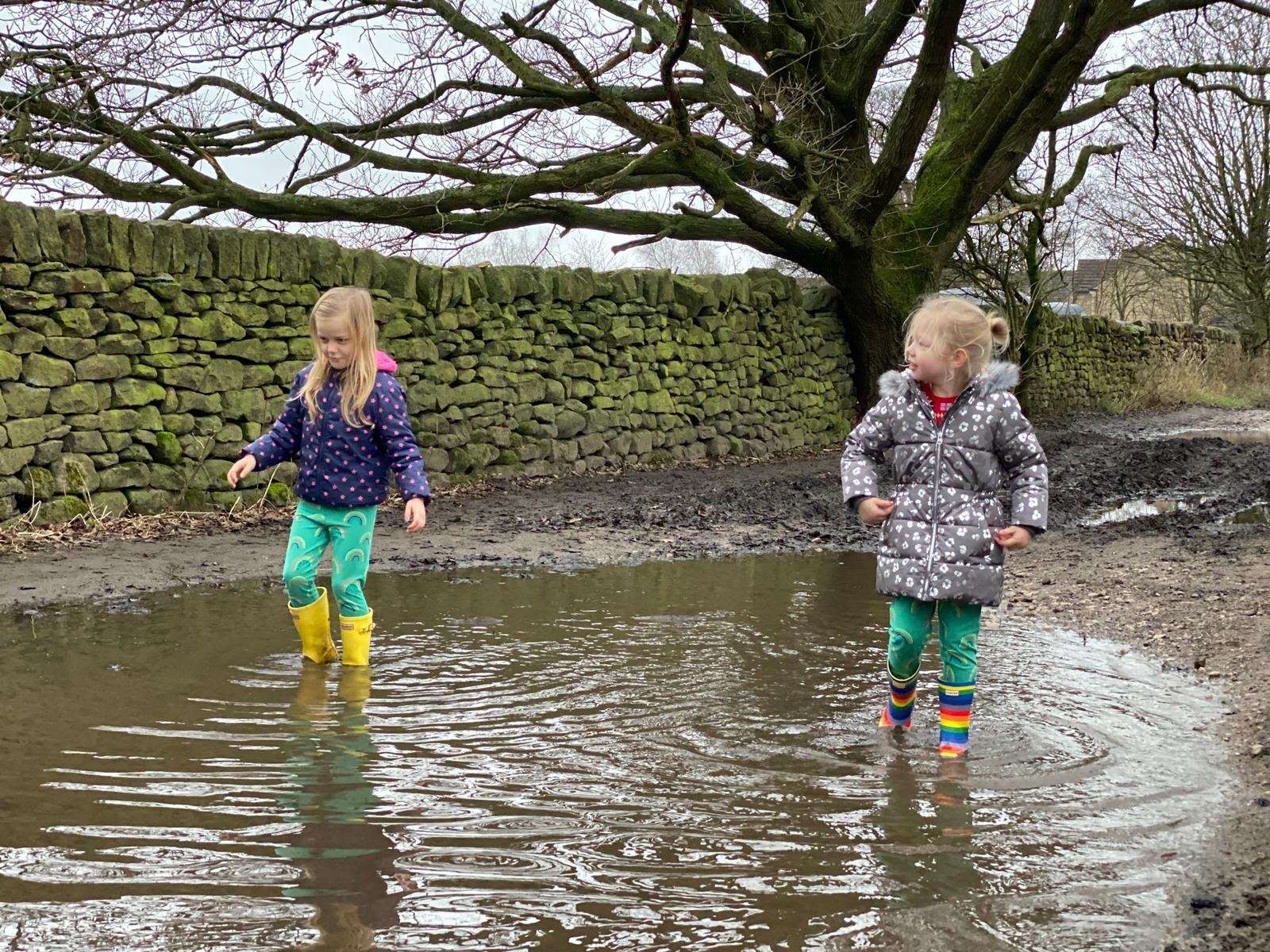 Woodland wandering #34 and Splish, Splash, Splosh #26
We really enjoy a walk in, to and through the woods – never more so than in the past year during lockdown. We have different types of adventures each time we go to the woods. Sometimes we take a collecting bag, used to hold the interesting things we collect on the way e.g. feathers, shiny stones, interesting coloured leaves e.t.c. My girls love to don their wellies and make it into a Splish, Splash, Splosh time too. They especially like to test the middle of the puddle to see how deep it is!
Top tip: woodland wandering is a great place to really listen to what is going on around you. What can you hear? It's also great to talk about describing words e.g. shiny, smooth, flat, tall, short, spiky, bumpy, stony, speckled, spotted, slope, wet, deep, shallow, damp, fast, slow. There's also so many other 50 things activities that can easily happen on the same visit to the woods e.g. Mini Beasts and Bug Hunting #09, shout and shh #13, Park Keeper #27Pitter Patter #29, Yummy Picnic #30, Trip Trap, Trip Trap #35

Dressing Up #15
We love a bit of dress up at our house. Typically, my girls have enjoyed dressing up in costumes, but recently, my 4 year old spontaneously came down the stairs in my coat and hat. She looked hilariously funny and tried to pretend to be me in the words she was using too!
Top Tip: There are no limits to dress up – there are no right or wrong ways to do it, so let children choose whatever they want when they are putting their outfit together. It doesn't matter if it doesn't match – that makes it so much more interesting and fun to talk about!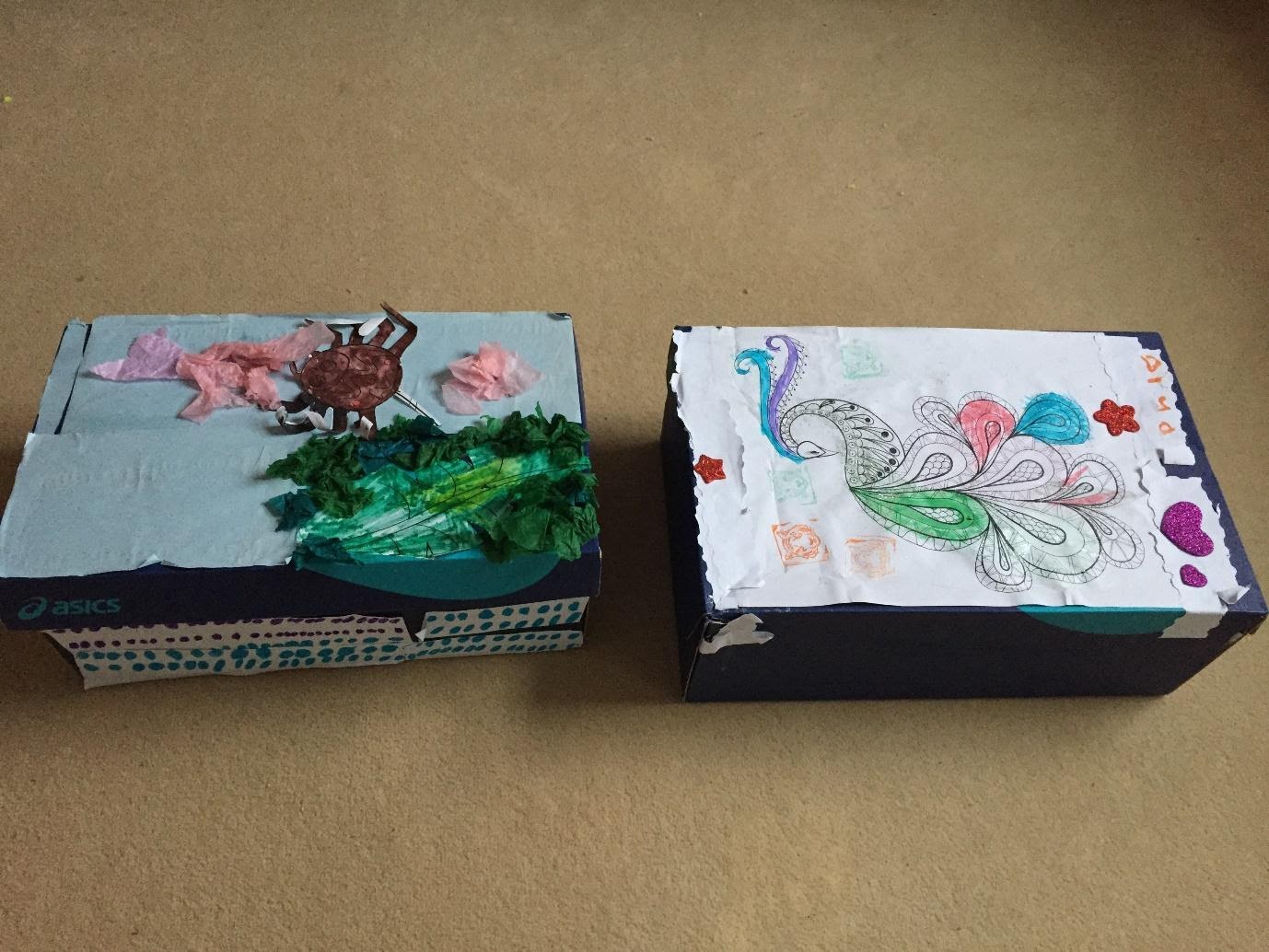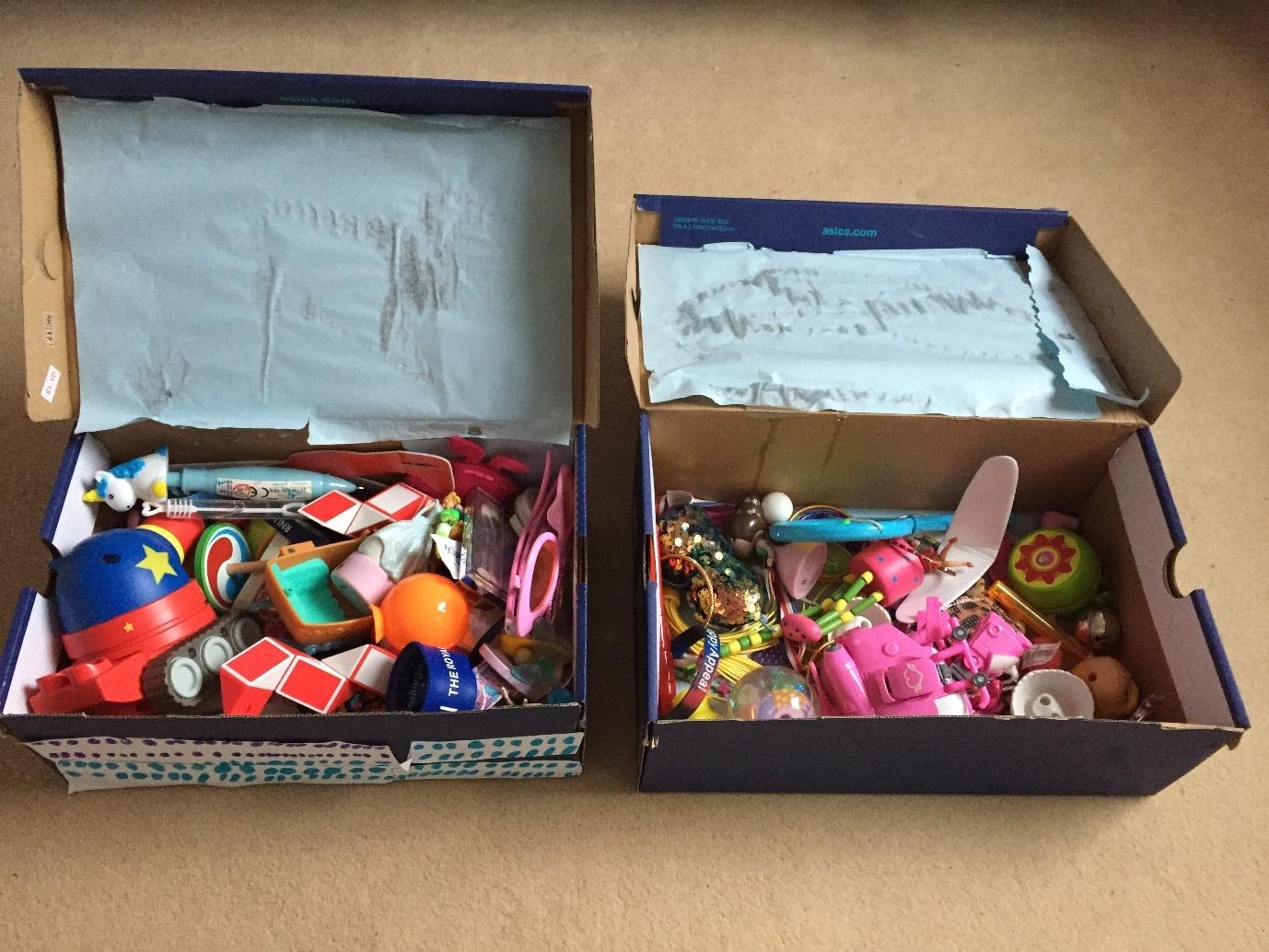 My Secret Treasures #22
For as long as I can remember, my children have kept a treasure box of interesting (to them) artefacts. Sometimes these have been favours from party bags, sometimes something they have made or been given, or something they have found. This eclectic mix of 'treasure' makes for a fascinating haul and is so interesting to talk about time and time again.
Top tip: Use the treasure items to help recall and remember special times e.g. when they got the special ticket on the bus, when they made that special object, e.t.c. The narrative that we share when we are talking about things repeatedly helps us to remember the 'story' behind the object more easily and then ultimately helps to cherish and treasure the memory forever, way beyond having the object.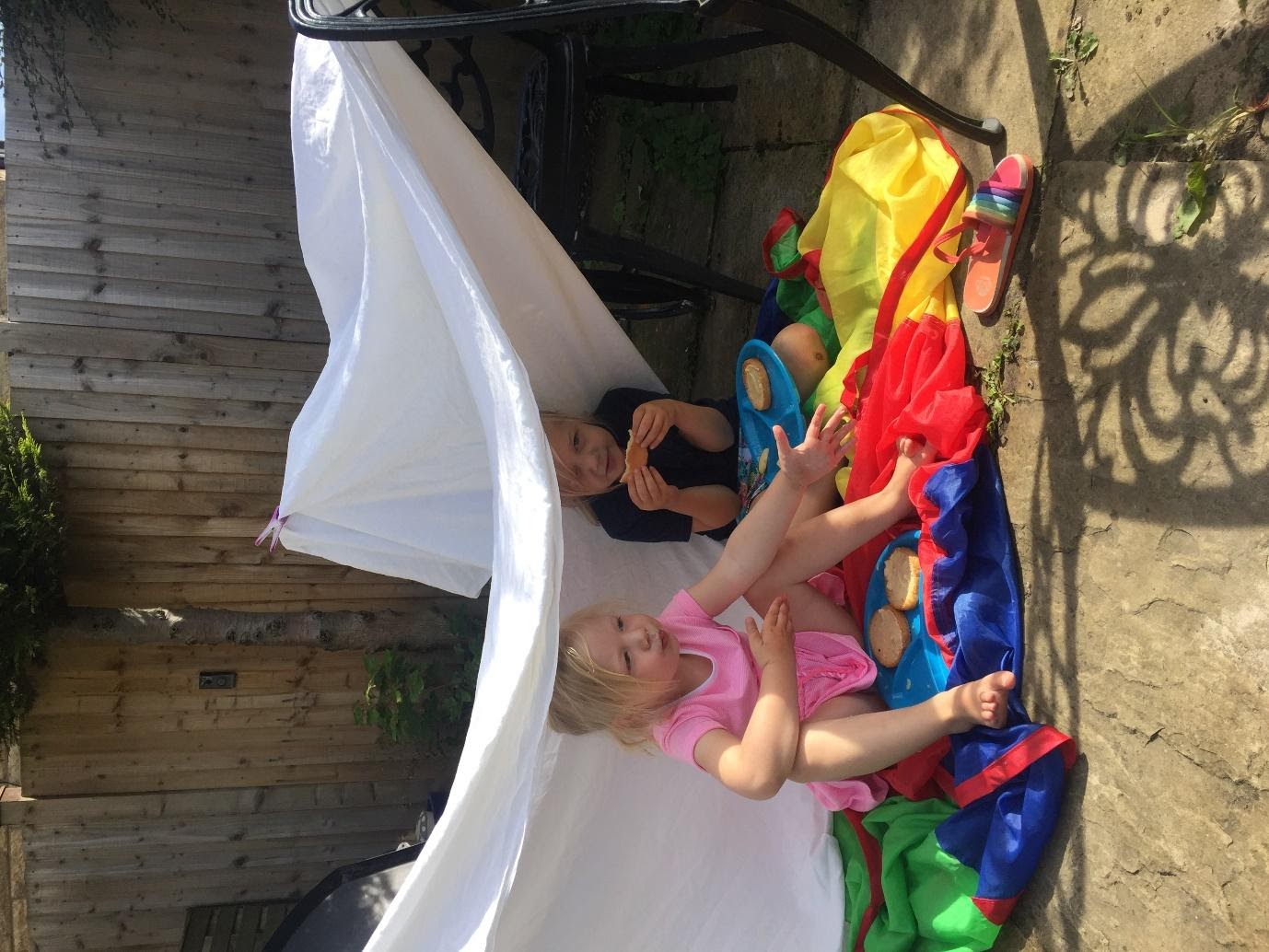 Home from Home #33
My girls like to play hide and seek in the house and often try and find unusual places to hide, so den building seems to be an extension of this desire to find a special place to just 'be'. Pegs, a large thin bed sheet and some furniture (to peg the sheet to), seem to be my children's tools of choice. Inside the den, my girls like to decorate the 'interiors' with familiar cushions and favourite teddies. It really is home from home! Often dens are built on trial and error, children find out what doesn't work as well as trying to find ways in which things do work. Children's problem-solving and reasoning skills will be called upon within this task and higher-level language skills may be required to independently do this.
Top tip: Young children can be supported with den building by adults building the den together with them first and showing them what to do. If adult's comment and talk through each step of what they are doing whilst they are doing it, then children get to hear and perhaps learn new words along the way too.
These are just some examples of things we have done as a family, inspired by the 50 Things activities.
Professionally, I know the research shows that the quality of experiences and language exposure children access in the early years are important. This is because children need to be 'ready' to build on what they have learnt so that they are well equipped to access education in the primary years and beyond. We also know that these early experiences can have a profound influence on later life chances.
Research continues to evidence that the amount and variety of words children experience and use in their own talking at age 5 years is a predictor of later life success in adulthood; in all areas. Including the jobs people do, how much people earn, how happy they are and their general health, social and emotional well-being.
When I'm talking about exposing my children to different experiences, I don't mean experiences that involve expensive trips to far flung places. I mean offering everyday experiences that provide a backdrop for great interactions and opportunities; experiences that provide a context for language learning – just like the activities in '50 things to do before you're 5. I hope that by sharing what we do, you can see that what you do, doesn't have to be fancy. Talking about and sharing in everyday chores such as cooking, cleaning, washing, shopping, gardening as well as activities like painting, colouring, building all provide great contexts for language learning. Getting out and about locally, going to the park, having a picnic, feeding the ducks, going exploring in the woods, going on a treasure hunt, going swimming, visiting the library, travelling on a train/bus all provide fantastic experiences to talk about.
When we're participating in a wide range of activities with our children and we're talking about what we are doing with them, then every everyday experience is potentially a language rich opportunity. This provides an excellent foundation for developing great communication skills and most importantly for having lots of FUN!
Most of these experiences are priceless, literally! ?
50 Things To Do Before You're Five is a menu of exciting activities for families with young children, giving them great suggestions for how to have fun and learn at the same time. All families can access the app for free, and if you live in one of the 50 Things localised regions you will see activities specifically tailored to your local area. Download the app here on Android or on Apple!
Victoria Wadsworth
Victoria is a Speech and Language Therapist with 18 years' experience working with a wide and varied caseload within a range of organisations. She clinically specialises in children that present with Developmental Language Disorder, especially interested in speech disorder. She lives in Bradford and has two children, aged four and seven, with whom she loves to enjoy the 50 Things activities!
Victoria will be speaking at our upcoming webinar:
How will Local Authorities promote healthy development during early childhood?
Wednesday 28th April, 2pm. Sign up here.