Birthday Beach Trip to Morecambe #50SeaAndSand
"Fantastic day out."

Bradford's 50 Things To Do Before You're Five project turned four in May this year and we wanted to celebrate this wonderful occasion with a beach trip to enjoy some #50SeaAndSand.
To start the day off we gathered at Shipley station and enjoyed some #45WonderfulWaitingGames while we eagerly waited for the train to Morecambe to arrive. Once the train arrived, one by one each person boarded and took their seat. There were many things to do and see on board the train; we enjoyed packed lunches kindly prepared by YABA, drew pictures and read a book. The book was an extra special touch as it had been developed by Year in Industry students, the Community Rail Partnership and it was specifically about a grand day out at Morecambe seaside. Use the link to download a copy of the book: https://thebenthamline.co.uk/2021/07/23/23-07-we-want-to-tell-you-a-story/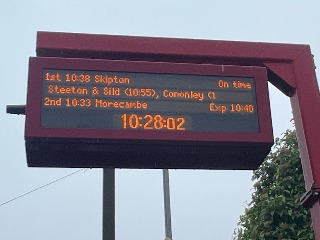 Throughout the journey there were plenty of amazing things to see through the train windows, such as a castle, steam trains, farm animals and much more!
As we approached Morecambe we caught a glimpse of the sea and the carriage was filled with the sound of excited children.
Once the train arrived in Morecambe, we disembarked and gathered on the platform for a chance to meet the train driver Jez (#43HighFive). We then enjoyed a short walk to Morecambe Library to shelter from the elements with some necessary puddle jumping (#29PitterPatter) on the way.
We arrived at Morecambe Library to a warm welcome and were able to use one of their spaces until the rain stopped.
We set up some activity stations in the library space including colouring, drawing (#04MakeYourMark, #20MiniArtists) and jigsaws (#11MakingConnections, #03TreasureTime) for the families to explore together. One activity that the children were particularly amused by was the large piece of shimmery fabric provided. The children rolled and wrapped themselves up in the material and were getting immense enjoyment from it (#15DressingUp).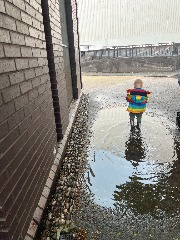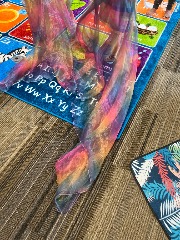 The children were invited to make shakers, choosing their own colours, to use alongside other instruments in preparation for our Rhyme Challenge session (#07MakingMusic). Our Rhyme Challenge Session featured some classics such as Hickory Dickory Dock, a super-fast version of Head Shoulders Knees and Toes and we also introduced Dobee Ayah in Urdu and English (#06RhymeTime).
While we were having a #30YummyPicnic, the sky cleared and the sun came out so, once the picnic was over, it was time for some #08Bubbles before we headed to the beach.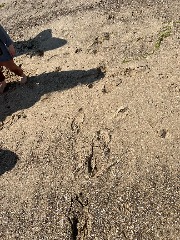 We followed the promenade down to the beach and on the way made an essential stop to take photos with the famous Eric Morecambe statue (#40HappyHistory). After finding a perfect spot to make our beach base, the birthday festivities continued with children and parents getting straight into building sandcastles (#05SquidgySand) and splashing around in the sea water (#26SplishSplashSplosh). One child gathered a tremendous number of sea shells in a bucket in true explorer fashion (#22MySecret Treasures) and we even discovered a few tiny crabs (#09MiniBeastsAndBugHunting). Another thing that the children were excited about was the cake and bubbles we enjoyed for our project's birthday. It was the perfect way to bring our time on the beach to a close. We packed our party kit up with much gratitude for the beautiful view and the glorious weather and headed back to Morecambe station to catch our train back home.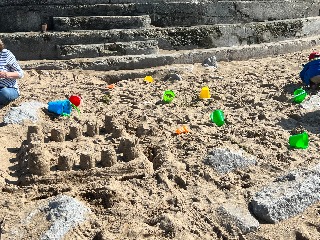 One parent told us "What an amazing day. Thank you so much. We will remember this day forever."
One beautiful outcome from the trip was that we had a range of ages of children and adults who did not know each other prior and they connected during the trip. They are now hoping to plan their own activities via rail.
Thank you to all the people that made this trip delightful and possible. We hope that everyone loved the day as much as we did and we look forward to sharing our Birthday celebrations with you in the future.

List of #50ThingsActivities we enjoyed on the day:
| | |
| --- | --- |
| | |
| | |
| | |
| #09MiniBeastsAndBugHunting | |
| | |
| | |
| | |
| | |
| | |
| | |
| | |
| | |
| | |
| | |
| | |
| | |

Let us know what your favourite activities are!